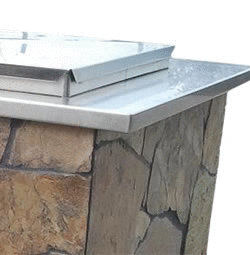 Stainless Steel Benchtop
The stainless steel benchtop is designed to pair with either one or two Parkland BBQs. It is available to suit a single BBQ installation or a double BBQ installation. We can also custom make benchtops.
Features
Choices
Specifications
Made from 304-grade stainless steel
Strong galvanised steel support frame
Available in two sizes
Single benchtop (SBT): L1680mm x D835
Double benchtop (DBT): L2270mm x D1070mm
Can be paired with any combination of inbuilt Parkland BBQs
Custom designs and sizes available on request.
Available in two sizes:
Double Bench top: 2270mm x 1070mm (2 BBQs)
Single Bench top : 1680mm x 835mm (1 BBQ)
304-grade stainless steel with galvanised support frame
Double Bench top: 2270mm x 1070mm (2 BBQs)
Single Bench top : 1680mm x 835mm (1 BBQ)