Kingsize Inbuilt BBQ - Gas - MBC7 & MBC8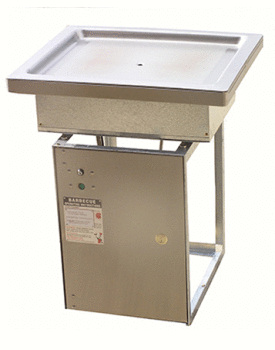 Gas Kingsize Inbuilt BBQ
Our Kingsize Gas Inbuilt BBQ is one of the biggest commercial BBQ hotplates on the market. WIth a mono-pressed 304-grade stainless steel hotplate, it is easy to clean and extremely durable.
This BBQ features large 15Mj/hr injectors, so you can be sure that it sizzles sausages in under 15 minutes. Supplied with a galvanised steel frame and locking stainless steel door, it is also easy and cost effective to install.
Available LPG or natural gas.
Features
Choices
Specifications
304-grade, 6mm thick stainless steel hotplate with cooking area of 680mm x 590mm
Powerful 15Mj/hr injectors ensure the BBQ gets hot fast and cooks quickly.
Automatic timer will switch off after a set period of time (factory set to switch off after 13 minutes)
Green light to indicate BBQ is operating
Available with free push button operation, coin operation or key operation.
Stainless steel door with lock to hide controls
Fully galvanised steel frame
Impressive, practical and durable
Ready for your brick or stone enclosure or available in a pre-fabricated cabinet
Push Button Operation standard - MBC8
Coin Operation available - MBC7
Key Operation available
LPG or natural gas
Stainless steel benchtop available to suit single or double BBQ installations
BBQ available in pre-fabricated cabinet
Extra locking door available for gas bottle storage if required
Overall Plate Size:
Overall size 790mm x 700mm
Cooking area 680mm x 590mm
Adjustable Height:
865mm to 915mm

Available natural gas or LPG
You Might Also Like