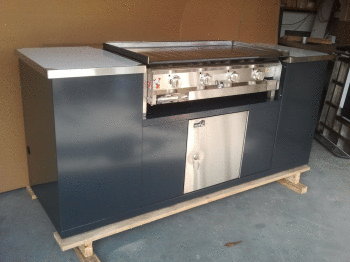 Hercules Club Cabinet
Built around the proven performance of the Hercules Hotplate BBQ this is a strong stylish unit that will suit any clean modern facility. The cabinet is available in your choice of powder-coated colours or stainless steel finish.
The BBQ features a huge 6mm thick solid steel hotplate with four strong cast iron burners that provide a high level of heat control along with excellent heat conduction and heat efficiency. Choose between LPG or Natural Gas operation and various options such as a windshield or spatter guard and lid.
The Hercules Cabinet BBQ is delivered fully assembled for easy installation.
Features
Choices
Specifications
Large impressive cabinet built to hold a single Hercules Hotplate BBQ with double servery area
Fully galvanised frame
Commercial grade 304 stainless steel bench top
Galvanised and powder-coated cladding – colour options available
Stainless steel cladding also available
Massive 1100 x 560mm BBQ hotplate in 6mm thick solid steel
Available to run on LPG Gas or Natural Gas
Delivered fully assembled
Overall Dimensions: 2100mm (L) x 750mm (D) x 1000mm (H)
Gas Options:
Available in LPG Gas or Natural Gas
Cladding Options:
Powder-coated (standard) with customised colour options available
Stainless Steel
Storage Lid:
Choice of Stainless Steel or Powder-coated lid
Protects the hotplate from rain and other outdoor elements
Helps to maintain the condition of your hotplate for maximum longevity of use
Spatter Guard/Windshield:
Stainless steel spatter guard
Ensures safety and protection of hotplate surrounds from the spatter of fat during cooking
Provides protection in windy environments helping to keep food warm
Optional warming rack can be fitted
Overall Dimensions:
2100mm (L) x 750mm (D) x 1000mm (H)
Weighs 190kgs
Cooking Area Dimensions:
You Might Also Like